Grassroots (U4-U7)
The Grassroots Program at Edmonton Forza FC primarily focuses on providing kids with a great introduction to the game of soccer and a love for the game that will last a lifetime. Forza FC offers kids in the Edmonton area an opportunity to train from a young age with a quality coaching staff within an organized structure. At these age groups the program follows the Active Start/FUNdamentals curriculum. Using this curriculum ensures that the LTPD (Long Term Player Development) strategy developed by the Canadian Soccer Association is being followed and the kids are learning the game in a proper way.
FUN is the primary objective!

Getting comfortable with the ball and running with it.

Development of fundamental movement skills.

Development of 1v1 playing abilities.

Introduction to game intelligence in 3v3/3v2/2v2/2v1 game formats.

Create a positive environment where success can be achieved.
U4/U5 COED
(Birth Year: 2018-2019)
U6/U7 BOYS
(Birth Year: 2016-2017)
U6/U7 GIRLS
(Birth Year: 2016-2017)

April-June

April-June

April-June

10 Week Season
10 Week Season
10 Week Season
Training 1x Per Week
Saturday 1:00pm-2:00pm
Training 2x Per Week
Tuesday 5:15pm-6:15pm
&
Saturday 2:15pm-3:15pm
Training 2x Per Week
Thursday 5:15pm-6:15pm
&
Saturday 3:30pm-4:30pm
2 Festivals Planned
2 Festivals Planned
2 Festivals Planned
Club Fees: $150.00
Club Fees: $200.00
Club Fees: $200.00
All training will be at Delwood Park Fields (7315 Delwood Rd)
All players are accepted into our program, team skill level ranges from team to team (all skill levels welcome). Throughout the season the program will have open rosters. Player movement from team to team is fluid. Players at these age groups will be assessed throughout the season and placed on appropriate teams for their individual development.
Please note that the information provided above is tentative and locations, days, times are subject to change based on field & coach availability.
---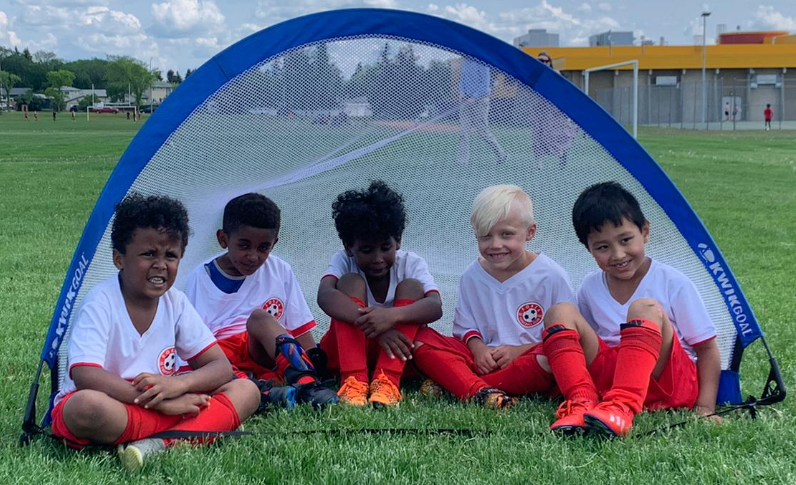 ---
What Is Included In Our Fees?
Participation in our Forza FC Grassroots Program

Provincial & District Fees

Festival Participation

Weekly Training Sessions Under the Supervision of Trained/Certified Coaches

Consistent Technical Training & Support

Administrative Costs

Field & Facility Rental Fees

Coaching Education

Team Equipment

Forza FC Grassroots T-shirt For New Players

1 End of Season Participation Award
Click HERE to see our refund policy.
Financial Assistance Options: KidSport or Jumpstart
---
Forza FC Is Looking For Coaches!
Forza FC is always looking for interested individuals that would like to get involved as a coach at these younger age groups. This is a great way to get more involved within the club or to start your coaching journey in a fun/low-pressure environment. We provide coaching mentorship, access to coaching courses, and paid for coaching education for all those interested. Please reach out to our Grassroots Program Director Andre at andre@forzafc.ca if you would like to discuss these coaching opportunities further.
Parents that assist as a coach for a Forza FC grassroots team will be reimbursed the full amount of club fees charged at the end of the season. Please email andre@forzafc.ca if you are interested in coaching this upcoming season. Please note that we would also accept older siblings and other family members for these grassroots coaching positions.